Melita's Firefly II - 2005 Grey Section B - 12.3 hands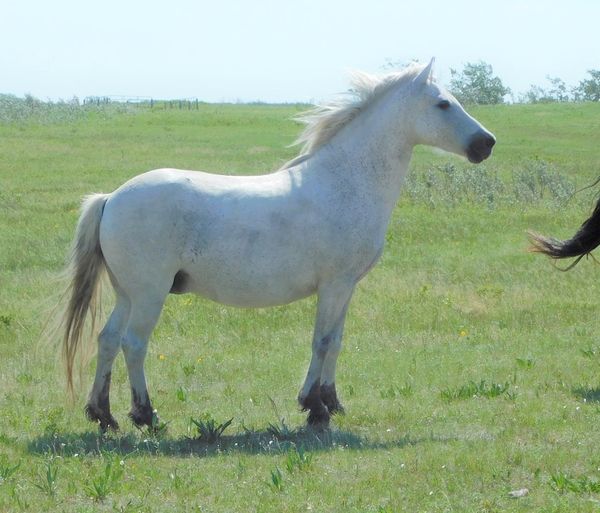 We bought "Lucy" to replace our dear departed Carefree Lynda's Linndy Lou as Amigo does great things crossed with a Welsh. Cute, smart, friendly, she won our hearts when we bought her as a wild, untouched four year old and within a week was halter broken to stand tied, lead and catchable.  For her first baby, we decided to take her to Lou's son, a registered Section B stallion. She gave us a lovely bay roan filly that we named Lou, after her granddam. Since then, she has been bred to Docs All Dun Kiddin.  This cross has given us two duns, two greys, a bay roan, two red roans, a grullo, a dunskin and a sorrel with four stockings and a bald face.We are very happy to get feedback and it has been unanimous.  Lucy foals are athletic, easy to train and have a ton of natural cow.  The foals from this cross have been maturing around 13.3  to 14.1 hands.  
Sudans Lou's Little Firefly - 2011 Bay Roan Section B - 12.3 hands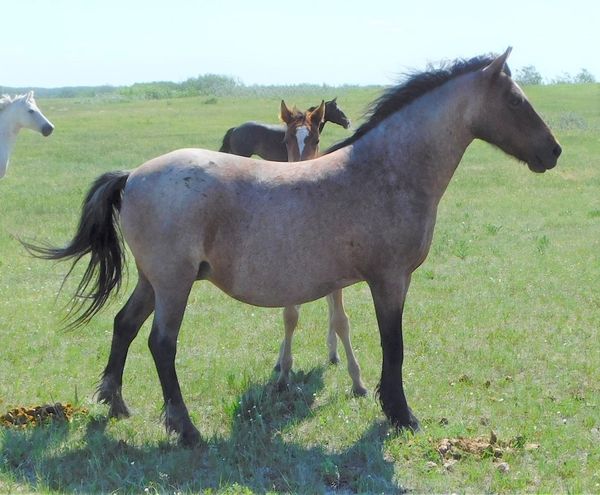 We took Lucy to be bred to a son of our good old welsh mare, Lou, and her namesake is the result. Then it became time to either break her and sell her or breed her. She has become such a part of the family and Lucy crosses so well with Amigo that she is staying. For her first foal, she was exposed to MI Bare Essentials, a buckskin Section C Welsh stallion for 2016. She had a palomino colt. Bred to Docs All Dun Kiddin, she has had a bay roan filly and a bay filly as well as chestnut and bay colts. 2021 brought such a pretty bay filly by Simon that she is bred back Custom Smoking Spark for 2022.
Carefree Lynda's Linndy Lou

Asgard's Yankee Doodle Dandy
Kelly Acres Addax - 2014 Buckskin Section D - 13.2 hands