2000 Red Dun  15 hands
AQHA #3976486  FQHA # 3265 92% Foundation
AQHA Five Panel Test N/N
Stud Fee - $500 +gst and mare care Hand or pasture breeding only
Amigo will be offered to a limited number of outside mares in 2022.  
We purchased this stallion as a weanling, already blind in one eye.  Despite this, he is the best minded stallion we have ever owned.He passes on his calm demeanor, trusting nature and athletic ability to his foals.  They are easily trained, quick and agile but sane and level headed. Amigo's superpower is his ability to bring out the best in any mare he breeds.  When crossed with mares with thoroughbred and cutting blood, he gives back sane but fast barrel racers and team ropers.  When crossed with quiet, even tempered mares, he gives you back a versatile family mount that can check the cows, compete in an open show and keep the kids in 4-H in the ribbons on Achievement Day.  "Amigo" was started under saddle and has an awesome hard stop.  Unfortunately, a severe ankle injury that led to a hock injury while a two year old prior to training prevented him from ever being shown in competition.
To see more information on the horses in this pedigree, click on their name.  Show record, colour and year of birth included.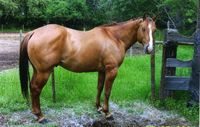 1992

Red Dun 3.5 AQHA Reining points $7622.52 NRHA earnings, over $15,000 lifetime earnings total

1974

Dun 9 AQHA Reining points, $226.44 NRHA earnings, World Show Amateur Reining - 3rd place

1952

Sorrel 10 AQHA Halter points, 42 AQHA cutting points, 4 AQHA Reining points, $2,251.36 NCHA earnings, AQHA Champion, Performance Register of Merit, AQHA Hall of Fame

1966

Sorrel 25 AQHA Halter points, 14 AQHA Reining points, 8 AQHA Western Pleasure points, 4 AQHA Trail points, AQHA Champion, Performance Register of Merit6

1975

Sorrel 14 AQHA Reining points, $3,962.49 NRHA earnings, Open Register of Merit

1970

Sorrel 97 AQHA Halter points, 44 AQHA Western Pleasure points, 13 AQHA Reining points, 5 AQHA Hunter under Saddle points, AQHA Champion, Superior Halter, Performance Register of Merit

1967

Bay 2 AQHA cutting points, $21,991.93 NCHA earnings, NCHA Cutting Horse Futurity winner and Derby placer, AQHA Hall of Fame

1956

Chestnut 36 AQHA Halter points, Speed index 75, $95.00 Race earnings, AQHA Hall of Fame

1949

Bay 174 AQHA Halter points, 671 AQHA Cutting points, $99,819.61 NCHA earnings, 1959, 1960,1961 HIgh Point Cutting Horse, AQHA Champion, Superior Halter & Cutting, Performance Register of Merit

1962

Sorrel 3 AQHA Halter points, 25 AQHA Cutting points, Speed Index 55, $6,037.24 NCHA earnings, Performance Register of Merit

1967

Brown 15 AQHA Cutting points, $6,837.01 NCHA earnings, Performance Register of Merit

1977

Sorrel 13 AQHA cutting points, 1 AQHA Western pleasure point, $19,057.26 NCHA earnings, Performance Register of Merit Offspring earnings of $145,620.98 NCHA

1958

Sorrel 6 AQHA Halter points, 8 AQHA Cutting points, $162.33 NCHA earnings, Performance Register of Merit

1959

Sorrel 26 AQHA Halter points, 180 AQHA Cutting points, $49,478.40 NCHA earnings, AQHA Champion, Superior Cutting, High Point Cutting Stallion, NCHA World Champion, Performance Register of Merit, AQHA Hall of Fame

1954

Chestnut 25 AQHA Halter points, 46 AQHA Cutting points, 19 AQHA Western Pleasure points, 2.5 AQHA Western Riding points, $3,215.90 NCHA earnings, AQHA Champion, Performance Register of Merit